Yesterday John went to have a scan on what he and his doctor were certain was a hernia. It was no big deal. I mean, hernia surgery is kind of a pain, but these things happen and we know lots of people who have had a hernia surgery before. I was out for a jog when John got back from the doctor and when I came into the house he walked out of his office and told me "It's a tumor." His doctor had called in a favor from a personal friend who was a surgical oncologist and made us an appointment for today. We didn't know what to expect. Can you have a tumor that isn't cancer? Will he take out the tumor while we're there today? If it's a tumor, shouldn't it come out as quickly as possible? We learned a lot that day and saw the scan and the size of the tumor was amazing. They estimated to be about the size of a football. They didn't know what kind it was, so he'd have to have a biopsy. That was scheduled and we left the doctor's office completely overwhelmed with this giant obstacle that had come into our life and hoped that we could overcome it with our life still well, with our life. To talk it out and hold hands for a bit, we stopped for a slice of pizza and a couple beers. Here is John after saying "Well, here we go."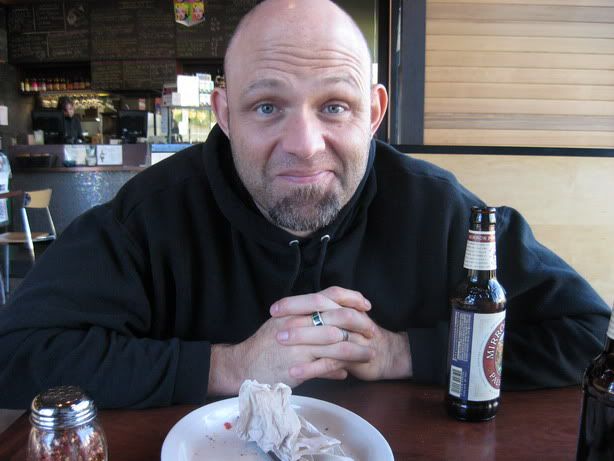 We had the biopsy done and the tumor turned out to be
GIST
. It is rare and does not respond to chemo. We had our tickets to Mexico and the doctor told us to go. He couldn't schedule John before then anyway. Luckily, and probably because we finally knew what we were facing, we had a great time in Mexico. John felt great for the entire time, except for the last two days when the cancer (which he had named "Tommy the Tumor") made it's residency in John's belly well known. We got home and rested and ready for what would be a very difficult battle.